Lifehack's Focus Areas in 2015
Over the course of 2014, Lifehack gained new ground and understanding about the relationship of Wellbeing and Mental Health, and specifically how working proactively on wellbeing, we have the potential to make a difference to people who are struggling with mental health challenges (such as anxiety & depression), whilst also building the resilience of a generation. You can read more about this in our 'What Is Flourishing?' section.
We also found that people who came to our events and longer bootcamp experiences were keen to better understand what made up Wellbeing, and how to address specific elements to build projects, ventures and prototype tech which would shift the needle for young people around the country.
After a lot of research, conversations with leading academics, and a dose of crowdsourcing from you (the Lifehack community), we're proud to announce the key areas we'll be focusing on in 2015.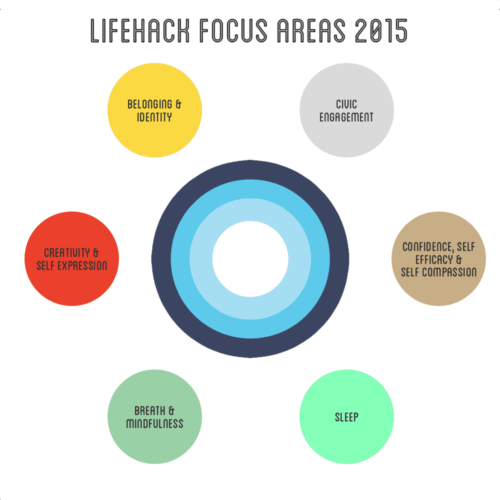 Identity and Belonging
Around the country in 2014 we kept saw this coming up – whether it was the SummerzEnd YouthFest in Christchurch, the "You Know You're A Coaster…" campaign on the West Coast, the South Alive project in Southland, or many of the other projects we met, worked with, and heard about around the country.
Young people are clearly asking the question "Who Am I? And where do I belong?"
For some people and communities, this is a deep cause of anxiety and discomfort. For others, it can be a deep well of power and energy. In 2015 we'll be looking at how we can help individuals, groups, communities and perhaps even young people around the country, have conversations about their identity and belonging.
Some examples of research linking Identity, Belonging & Wellbeing:
Creativity & Self Expression
Another strong topic from 2014 was the role of music and creativity in Aotearoa – whether it was Performing Arts training in Northland, Rangatahi musicians in Southland, or West Coasters wanting to set up a radio station. As Go Flo emerged from Lifehack Labs we encountered some strong research links between creativity, self expression and wellbeing – we're excited by the possibilities for all young people to engage in this, and for it to be scaled up in impact through technology.
We're excited to be looking at exploring this area further, seeing what the research tells us, as well as generating some new insights with a specific focus on Aotearoa New Zealand context.
Some examples of research linking Creativity, Self Expression & Wellbeing:
Breath & Mindfulness
Overwhelming evidence is pointing to breath and mindfulness as key approaches to a wide range of positive health and societal outcomes.
YOMO is one of the Lifehack Ventures which is taking some of the great content from positive psychology and mindfulness especially, and finding new ways to bring it into people's lives, as well as looking at how technology may augment our understanding of its impact on our lives.
Some examples of research linking Breath, Mindfulness & Wellbeing:
Sleep
This is a topic which we haven't yet had much to do with, but we know from a range of studies that it is one of the highest predictors of all kinds of stress, and profoundly affects our biological and neurological processes. It is particularly important in the adolescent 12-24 age range we're working with as well.
We're excited to see what we can learn and contribute to the conversation, and see how our community's creativity may be applied to this important topic.
Some examples of research linking Sleep & Wellbeing:
Confidence, Self Efficacy & Self Compassion
These were areas heavily suggested by our academic friends and a significant amount of research, as well as something a lot of our community appeared to gel with as something to take action on.
There was strong relationships between these elements and the ability to be adaptive and resilient, and we think it has a wide variety of ways the Lifehack Community can take action, with plenty of room for technological innovation as well.
Some examples of research linking Confidence, Self Efficacy, Self Esteem & Wellbeing:
Civic Engagement
We know from a range of research that young people who are engaged in their communities – whether it's through helping out, volunteering, sports, or more deeply in decision making and political matters – tend to have greater wellbeing.
There's some world leading research happening in our backyard with the likes of Jill Hayhurst at Otago Uni, and the Design & Democracy Lab at Massey University. We're excited to see how Lifehack can contribute to supporting some of the projects and research to expand and take flight this year.
Some examples of research linking Civic Engagement & Wellbeing:
We're excited by where this new focus will take us, and invite participation, additional research and partnerships to help us go deeper into the Aotearoa New Zealand context for all of this work.