#LifehackLabs – Week 1 – Connection, Courage & Content
Last week we got off to a flying start in Week 1 of the inaugural Lifehack Labs with 20 young people from around Aotearoa New Zealand converging on Wellington.
We'll be writing a blog post each week to keep you up to date with what the Labs cohort has been up to, but you can also follow along and engage online using #LifehackLabs.
Firstly, let us introduce our amazing Labs participants; Aaron Intemann, Ahmed Hilali, Alexanda Whitcombe, Caroline Fitzgerald, Gemma Potaka, Jade Shearstone, Jamie Emery, Jessica Ducey, John Park, Katie Catchpole, Michael Smith, Nanz Nair, Nathan Mitchell, Ryan Angus, Siddhant Menon, Skye Chadwick, Steven Male, Tahlia Kingi, Zoe Deans, and Ruth Gregoriadis. You can look them up in our new Lifehackers section.
Labs kicked off with a 5 day hui at Tapu Te Ranga Marae, where many of the cohort met for the first time. We were really lucky to hear from Koro Bruce Stewart about the history of the stunning eleven level, recycled wood marae which is nestled into regenerating bush in Island Bay. The marae hums with the energy of the tangata whenua, and countless groups who have brought their kaupapa under this roof to go deeper, connect, reinvigorate and inspire.
Tapu Te Ranga did this for our group too – not only did we explore 'youth wellbeing' together, we heard from academics from Auckland, Christchurch and Queensland, as well as going deeper into the stories of one another and building a sense of whanaunatanga.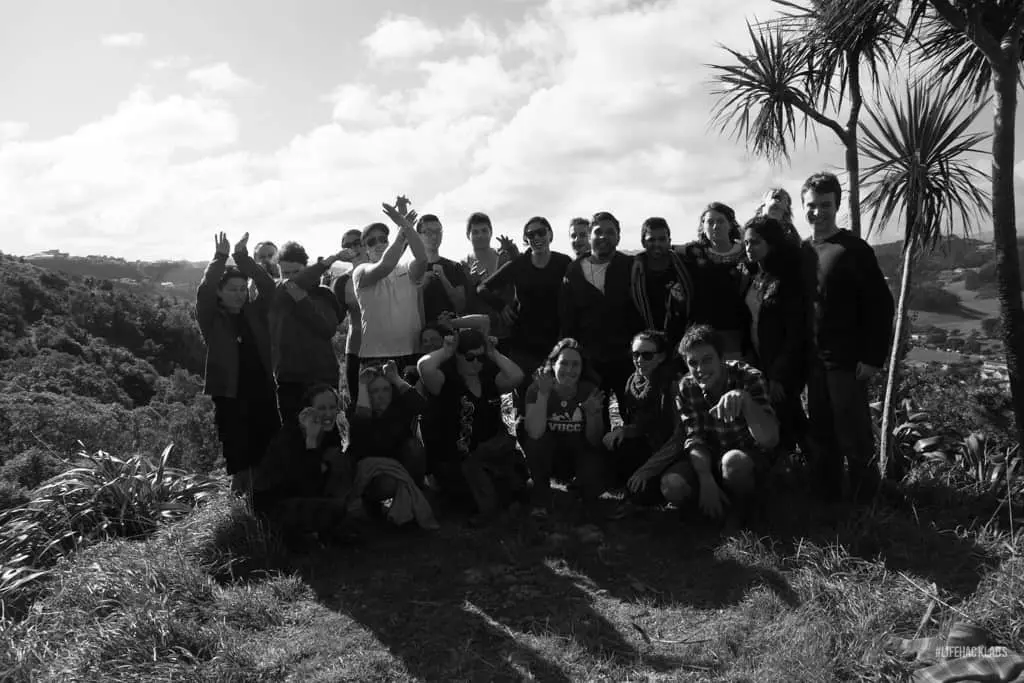 We built wellbeing into the program, as well as the content – so our cohort had the ability to experience the five steps to wellbeing, as well as learning about it.
As well as meeting our network of mentors at the hui, we were also lucky to have Joshua Vial from Enspiral DevAcademy join us to talk to the cohort about the voice of their inner critic. Whilst it is often difficult to face our own and very personal situation, it is helpful to acknowledge the voice – and type of critic – that lives within our head. Josh invited us to listen to that voice more actively, and even speak out loud what it is this person says. Is it comparing your achievements to those of others? Is it continuously bringing you down with negative thoughts? Or is it telling you that you should be happy with what you have, because others are worse off?
Realising that one is not by themselves with issues and thought patterns can be helpful in trying to minimise the negative effect that this voice can have on us. Facing this inner critic with constructive techniques, such as mindfulness or breathing exercises can help individuals cope better with what it is that we each face.
During the retreat we were also able to skype in Stoyan Stoyanov, a research officer at Institute of Health Biomedical Innovation, Queensland University of Technology. He works with an inter-disciplinary team which is researching and developing tools which seek to improve the wellbeing of young Australians.
Out top 3 take aways from Stoyan's talk:
Mental illness and wellbeing are on a spectrum which influence one another, but don't directly correlate. Our mission with Lifehack Labs is to improve wellbeing of all people, but the tactics of the teams will be different for the individuals and communities involved.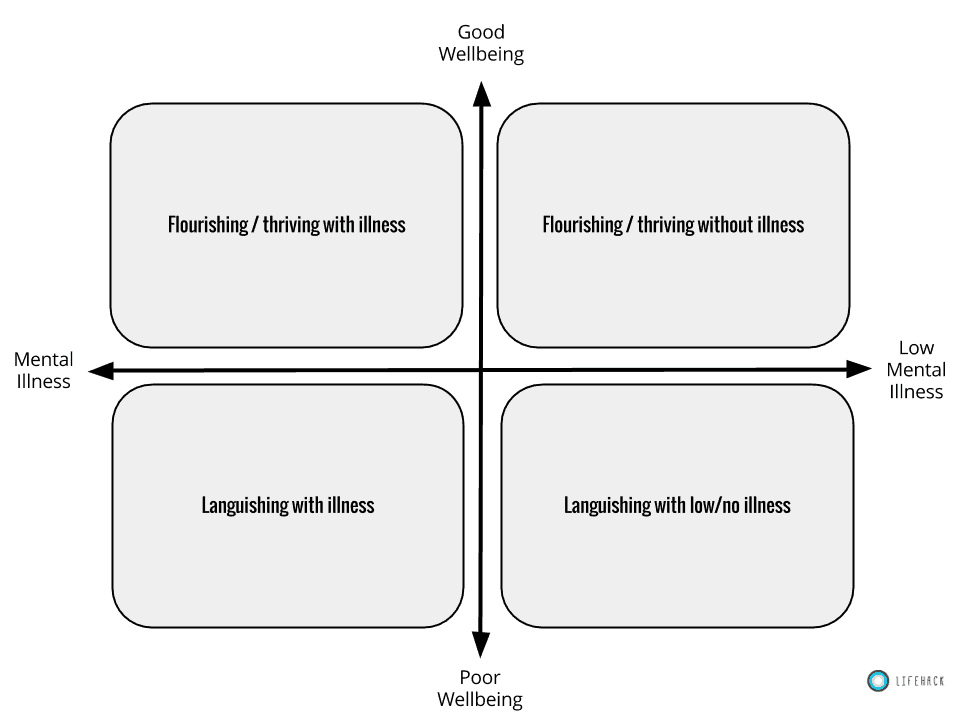 Rigorous research is an important part of starting and building something new – it's vital that we check what has already been created, and interrogate it to find out what was good, what was bad, and whether it can be done better – before moving forward. Our teams will be spending some time doing this in Week 2.
The MARS Scale is being developed by the QUT team which goes beyond a 5 star ranking system for iOS and Android apps. It works through the core areas that people might use to assess whether a Wellbeing App is engaging, will deliver on what it promises, and is aesthetically appealing. The team is using the app rating scale to identify areas to target new apps at, and identify key failings in existing apps.
Engagement, Functionality, Aesthetics, Information. 4 key components of a good wellbeing app – MARS Scale from @QUT #LifehackLabs #mHealth

— LIFEHACK (@lifehackHQ) August 18, 2014
After an amazing few days at Tapu Te Ranga, it was finally time for us to say farewell to the fantastic surrounds, the warm hospitality and the excellent food. On the up side, it was time for us to move into our new digs…. Trade Me's corner office in Market Lane – infamous to many Wellingtonians as "the one with the slide".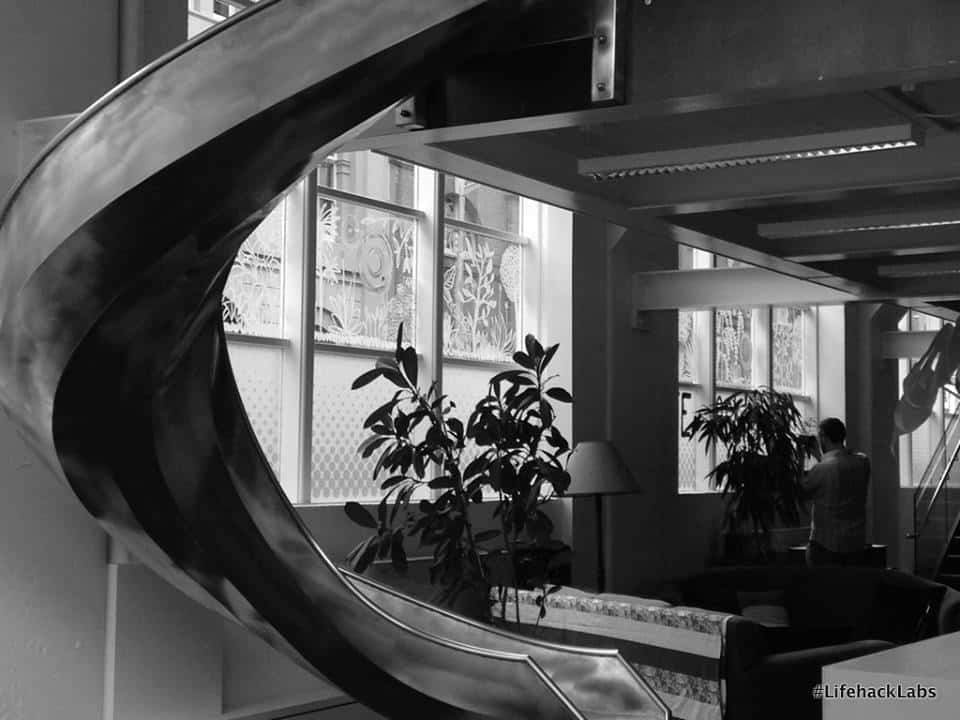 The move into our new space came with some excellent workshops and lectures from the likes of Dmitry Selitskiy (founder of NZ-based Thought Wired) who talked to us about brain sensing technology, Arturo Pelayo (Designer, Entrepreneur & 2012 Singularity University cohort) who spoke to us about Disruptive Innovation, and Michelle Blanchard from Young & Well CRC in Australia.
Michelle joined us to share some of the work they've been doing to explore the role of technology in young people's lives, and to determine how those technologies can be used to improve the mental health and wellbeing of young people aged 12 to 25. Michelle shared the spectrum of interventions, some great research snapshots, and some of the amazing work that has been sparked by Young & Well and their partners in Australia.
More than anything, we took away the need to engage young people in the development and operation of new models of e-Health, and the need for great data and insights to underpin the projects.
Finally in week 1, after 8 days on the trot (plus a work week before for many…) we were treated to a fantastic presentation by Akina Foundation CEO, Alex Hannant. You can check out the slides from his talk on 'How To Make A Change' on our SlideShare here.  
Best way to start Friday? Listening to @AlexHannant from @akinafoundation on how to make a difference #LifehackLabs pic.twitter.com/AF59Csez4d — jade (@jadeshearstone) August 21, 2014
If you want to get the more visual run down of the week – check out our Facebook Photo Album: