Youthline, Sovereign, and Lifehack: Youthline Manukau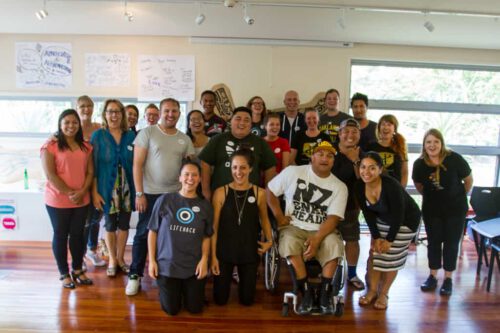 We're immensely proud to announce that we've had the privilege to work with Youthline's Manukau team, and Sovereign last week.
The Lifehack team travelled up to Auckland and spent Thursday and Friday at the Manukau centre working with amazing humans from both organisations to run a Lifehack Weekend-styled event. We worked together to prototype different solutions that would bring about an increase of volunteers to the Youthline Manukau service.
The Youthline Manukau team welcomed us into their whare midday Thursday in preparation for wider community members to arrive, as well as the team from Sovereign for a 1pm kickoff. A unique group of people arrived into the space with sharp minds and a full kete of tools and skills ready to be deployed within the Youthline mahi.
A strong part of Lifehack's mahi is to codesign spaces where diverse groups of people can come together around shared visions to further the wellbeing of all young New Zealanders, in this space it was about bringing together some amazing people from both organisations in order to prototype solutions around creating a buzz, cherishing volunteers and pathways to volunteering in the Manukau center. The importance of creating this space with everyone was to build a deeper sense of whanaungatanga, or a strong feeling of family and connection. Through this process we were able to have conversations in both breadth and depth that illuminated how we can increase engagement within the Papatoetoe community, strengthening Youthline's impact.
Together with the all of us from the Lifehack team, as well as the League of Live Illustrators we collectively and collaboratively produced the beginnings of some exciting projects which are aiming to build the volunteering in Manukau. From revamping the Manukau Facebook page, and starting an ongoing blog-series, to looking at processes to improve the experience of Volunteers answering the phones; it was truly amazing to see the passion that came through from every single participant!
Over the coming weeks we'll be working away with everyone from both Youthline and Sovereign to push these projects forwards into the wider Papatoetoe community.

Do you want to volunteer your time for an amazing cause? Head over here for more information!
We're still putting together our insights and experiences from the time we spent in Manukau, and will be posting some more updates shortly – if you're keen to keep up with Lifehack then subscribe to our newsletter!