The Lifehacker Co-Founder Journey – Part I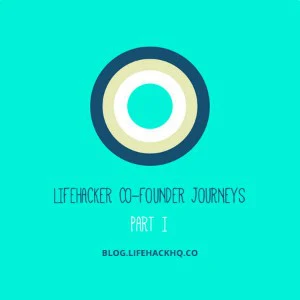 It's been an industrious winter for the LIFEHACK team, though you may not have heard too much of what we've been up to. As part of our vision for LIFEHACK, we needed to take the awesome outcomes from the events around the country and help those teams to make their ideas a reality. You may've heard we've also been rounding up a team to take LIFEHACK forward, hanging out at Social Enterprise Weekend and reflecting on how Design Thinking can help us build better tools for social wellbeing.
We had a great time hanging out with some of the first Lifehackers from around the country to find out what worked and what didn't from the experience. Entrepreneurship isn't always easy – we were delighted to talk to two of the teams from Dunedin who chose another route of taking their ideas forward. We see that there's real desire and need for support beyond the LIFEHACK Weekends, where we can help Lifehackers turn ideas from the weekends into real working technology which improves the lives of friends & whanau.
We were particularly inspired by a couple of stories of the teams who didn't proceed through to LIFEHACK Labs. Here's the story of LIFEHACK in their words:
Raymond Steele & Scout Liu – Footsteps – Dunedin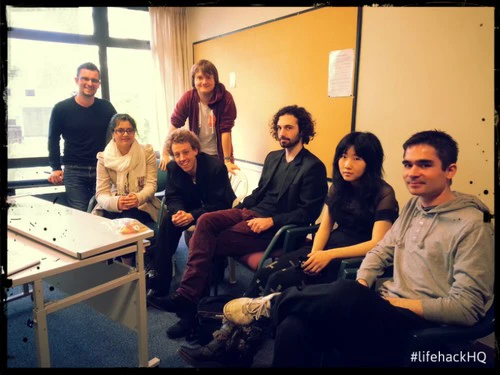 "We all met at the LIFEHACK weekend – I didn't know the rest of the team, but we worked well together and decided to stay together. We pivoted the original idea because we found out someone was already into what we were doing.
We found out about the Audacious business plan competition and just jumped into it. The process helped us focus on our product and we had to build a business plan in the process. We wrote a 2 page plan to enter the first round and we put our idea up onto a voting platform for feedback. We also did a 60 second pitch and the Dragons Den.
In the first round there's heaps of competitors. A lot of the teams who entered were just in it for the money – $10,000 was up for grabs in the first round. We worked overnight to get into round 2, and despite not winning, we persisted and we were invited to the next round as they liked our idea.
None of us have commerce experience so we were excited to have the opportunity to develop a business plan because it gave us a lot of knowledge.
Round 2 was really daunting but they obviously want to help you, so it's less daunting than Dragons Den on TV. They look at your business plan and they interrogate you on it. They essentially want to know whether we were investable. Winning this sort of competition sets us up to grow fast with capital investment and a network of support. Audacious is jointly run by the University and the Polytech.
Some of us have jobs as well as uni and having a start up – keeping the momentum up is a constant effort. Recently we went to Auckland to video Plant and Food Research staff – Dr Bruce Campbell loved our work and he tweeted us which really lifted our profile.
Filming with @FootstepsNZ 2 help young people find their future #career path. Awesome initiative Scout, Nathan & Cam pic.twitter.com/hW2VgE44nH
— Bruce Campbell (@Dr_Campbell) August 14, 2013
Going up to Wellington has also been really exciting – we attended Social Enterprise Week and realised were part of an exciting community."
You can follow Footstep's progress through their website here.
Editor's note: Footsteps actually made their way into the Audacious Top 15, and they were also commissioned by the Audacious organisers to use their awesome creative skills to make this video of the event (we're super proud of these awesome Lifehackers!)…
Learning from our amazing community, indeed from Lifehackers themselves, is key for the LIFEHACK team to create the best platform to design, develop & launch your social venture. We're really proud of the ideas developed through the weekends, but without developing them further, executing the visions, and turning the bright ideas into working technology projects – the ideas are still just that. We're feeding our own learnings from these conversations into the LIFEHACK Labs which are now up and running – but we feel like we can still do more.
Over the coming weeks we're going to be releasing a blog series focusing on some of the core areas to help you develop ideas – whether they were ones you had at LIFEHACK Weekends, or just things that begin to emerge for you. If there's anything you'd like to read about specifically, please do drop us a note in the comments.
Finally, here's a short video from the good people at Unreasonable Institute to remind you that success in creating meaningful change isn't just about luck…