Place-based initiatives: Etsy.org's Hudson Valley programme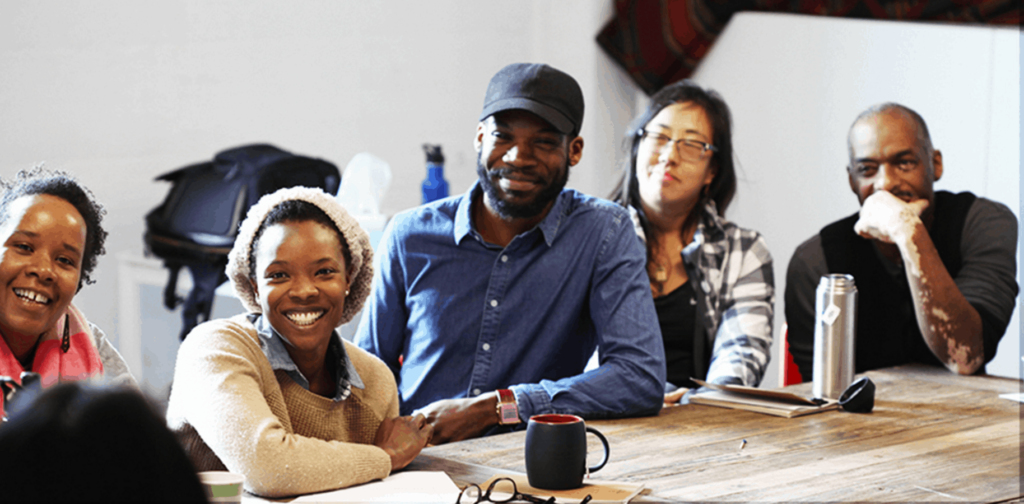 Photo via Etsy.org
We at Lifehack are currently thinking about the relevance about place-based programmes (we may well be scheming we can talk about soon). I was excited to catch up with Grace Lodge from Etsy.org this morning. She currently coordinates a local entrepreneurship programme in the Hudson Valley in upstate NY, about two to three hours drive north of New York City. The organisation, Etsy.org is not to be confused with Etsy.com, though they are related as the name suggests—it was launched as an stand-alone charity by its crafty (and entrepreneurial) big sister organisation. It's soon to be renamed into the Good Work Institute.
Etsy.org's mission is to develop transformational business education programs that enable us all to work in ways that regenerate our lives, our enterprises, and our communities.Their aim is to get locals to invest in themselves, commit to their region, to others around them and to caring for planet we live on whilst running sustainable businesses.
The Hudson Valley Programme
The Etsy.org team describe the Hudson Valley programme as 'a 6-month, cohort-based, business education program where a dynamic group of 24 local entrepreneurs and community leaders come together to find clarity, develop confidence, and deepen their commitment to working in ways that make their lives, their enterprises, and the Hudson Valley region thrive.' It seeks to create a resilient, self-reliant regional economy which serve the people and its place.
The programme itself focuses on the role of personal growth and development in relation to the wider world, through seeking to build a thriving local regenerative economy. Questions such as 'how do we avoid people leaving community?' and 'How are people motivated to stay?' evidently are relevant to many rural communities in New Zealand and the USA, and other places of course, alike.
Across the months leading up to the programme launch, outreach was crucial to get a diverse, relevant and committed cohort. It consisted of local business and community leaders, intrapreneurs for example lawyers and bankers from local organisations, artists etc.
As part of the programme 'each fellow identifies an opportunity and/or challenge that can be addressed through their enterprise. Each session presents new knowledge and experiences that develop solutions in the form of a roadmap. At the end of the program each fellow makes their own public and specific commitments to doing regenerative work on a personal, professional, and regional level.'
Participants are encouraged to spend time together outside the sessions, which take place every other week for six months, in particular for those who wouldn't typically do so. A lot of the work involves building a sense of camaraderie to encourage regular showing up fully and following up with the commitments made to themselves and others . The cohort have triads—much like the whānau groups deploy during our programmes—to check in with each other.
The role of outside facilitation
The role for the outside facilitator, or person guiding a group through a social process (whether it's Etsy.org or Lifehack), often includes deep listening to those present, and finding out who else should be there. In the lead up to the Hudson Valley programme, Grace mentioned that many community meetings proactively involved local key stakeholders, and asking them who isn't here, or who doesn't normally get these opportunities. A question that's present for each of us in our work is how outside facilitators can we act as the bridge between organisations that don't normally collaborate, or aren't aware that they might share a common vision—or include those who aren't usually included? And how do we make use of the wisdom holders, or the kaumatua in New Zealand's instance, as a resource and champion for such a programme?
The role of self-care
Similarly to what we often ponder at Lifehack, the question of 'What are you doing to take care of yourself?' is prominent across Etsy.org's programme too. If lasting positive change is what we're all after then what use is creating initiatives, enterprise or otherwise, that are emotionally (or financially) unsustainable?
Big thanks
It's so refreshing for us at Lifehack to come across interventions and organisations that might follow a similar structure  or approach or pattern. Huge thanks to Grace at Etsy.org and our other international friends who we semi-regularly get on the phone with to share practice, insight and hardship: the team at Blue Ridge Labs/Robin Hood Foundation, Thicket Labs, WellAhead/McConnell Foundation and the team at Social Labs. Only by sharing the work we're each doing can we accelerate the pace of change at which we make lasting positive change in our respective corners of the world a reality.