Lifehack Weekend Announced for Lower Hutt : Call for Projects & Participants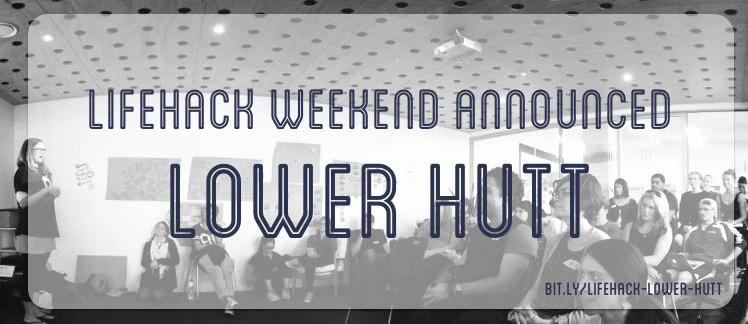 We're stoked to announce that we'll be hosting a Lifehack Weekend in Lower Hutt! Join us for a weekend of collaboration, helping community projects and meeting like-minded people keen to improve youth wellbeing in Aotearoa.
Details:
Kick-off – Friday 7th August 5pm
Saturday 9.30-5pm
Sunday 11am-4pm
Venue : The Dowse Art Gallery, 45 Laings Rd, Lower Hutt
We're keen to hear from people eager to get involved – either by coming to the weekend as a participant, or as a project holder. Project holders are individuals or teams running youth or wellbeing-focused projects, and might need a helping hand, whether that's with some graphic design work, writing, making logos, working out how to use social media etc.
SIGN UP HERE would like to attend as a participant or know someone who might (please make sure to get their permission first!)
Know of a project that could do with a helping hand? (This might well be your own!)
We are keen to hear from people who are living, working, doing what they do in the Hutt to spend a weekend with us helping out existing wellbeing projects. Whether you are a stay-at-home Dad, teacher, IT professional, rugby player, nurse, graphic designer, secondary school student, cafe owner or astronaut we would like to hear from you!
What is a Lifehack Weekend?
Lifehack Weekends are a great opportunity to kickstart creativity and innovation in a wide section of our society, around the country. We blend an engaging, fun social experience, with a highly collaborative way of working on issues which are best addressed through a diverse bunch of people working together. So far, we've held weekend events in Kaitaia, Invercargill, Greymouth, Christchurch and Wellington… now it's time for Lower Hutt.
If you are interested in attending as a participant please complete this form and if you have a project you would like to put forward for the weekend please complete this form. At Lifehack weekends you'll definitely make new connections, meet like minds and use skills you never knew you had on awesome projects which improve the lives of young Kiwis. You can see the video about past events here, and here is one from our Christchurch event last year.