#LifehackSouthland was epic!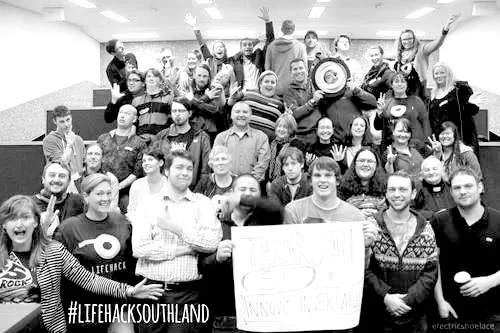 Southland has officially been Lifehacked!
We're still somewhere in the clouds after a weekend down in Invercargill working with the good people of Southland who really brought the good when it came to the first Lifehack Weekend in the deep south!
With over 55 people, we had a wonderful eclectic mix of skills, backgrounds, talents and mindsets. With our newly re-modelled weekend event, we got to work connecting with one another to share our stories and even our hopes and dreams for ourselves and our communities. It was off this platform we then launched a creative collaborathon (yup, we're coining that), and got to work on local innovator's projects.
Our amazing local project holders were from Murihuku Youth 'RAP', South Alive and 0800 What's Up?
Throughout the weekend some pretty amazing work happened – from designing mapping systems for South Alive's volunteer activities, to creating new web platforms for MYRAP's music videos, and UX workshops undertaken for 0800 What's Up? to better enable young people to get in touch.
We could talk all day about how awesome these projects were, what was created and how it all unfolded, but instead – we had the amazing ladies from Electric Shoelace Productions make a short video for us to share the buzz. Check it out!
A huge huge thanks to all our awesome Lifehack Southland supporters ~ Southern Institute of Technology for the venue & pizzas, People's Coffee for the tasty brews, and the amazing team at Innov8 Invercargill who did SO much work to help bring us down and get our amazing new bunch of Lifehackers in the room.
We also have to thank Digital Stock (the local software development team) who we worked with to take some of these ideas and outcomes from the weekend, then develop them further and weave them into usable, relevant technology for the project holders. Over the course of a very intense week of work, they transformed the digital infrastructure of South Alive – creating a volunteer management system, zero rubbish mapping tool, and an online bike loan booking system (soon to be launched). As well as that, they kindly opened the doors of their office and mentored the MY RAP team who got together again to finish their amazing new MY RAP youtube channel.
Huge kudos to everyone involved in #LifehackSouthland and welcome to the whanau!