Heading to OuiShare Fest in Paris and other amazing places
From the 18-20 May 2016, 2000 people will gather in Paris to explore the future of the collaborative economy. OuiShare Fest, now in its fourth year, is hosted by the network with the same name. It's a distributed, non-profit and global community which 'exists to empower citizens, public institutions and companies to build a society based on openness, collaboration and trust'.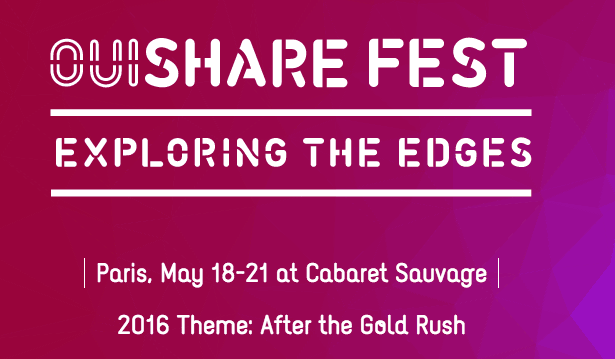 Our very own Gina Rembe has been invited to speak at OuiShare Fest, alongside Derek Razo from Enspiral's Cobduget and Chelsea Robinson, our former Lifehack co-lead who is now based in Berlin.
OuiShare describe the festival itself a gathering of 'creative leaders, entrepreneurs, movement builders, purpose-driven organizations and communities from across the globe to explore the edges of the economy, society and ourselves. As a network and community it explores questions similar to Enspiral, which Lifehack is based out of, and members from each respective networks have built relationships to explore those questions collaboratively.
The four-day festival roughly explores three different views: the systems-, organisational- and personal view and the preconditions required for driving systemic and meaningful change. With Lifehack's learning in the space of capacity- and capability-building, Gina will be contributing to a panel called (Digital) Networks for Accelerated Learnings.
The full schedule is available here. Tickets are still available (including reduced ticket price options), as well as volunteer opportunities. All content from 2015 is available for viewing here.
As part of her overseas trip, Gina will also be meeting friendly folks in Berlin and London, including Uscreates, a health- and wellbeing service design agency, the fine folk of Good For Nothing (the original format from which we derived our Lifehack Weekends), rapid prototyping consultancy Outlandish and more. And just like our last trip overseas to Montreal in October, this trip is entirely self-funded with money separate to the grant we receive from the Ministry for Social Development.