Everyday Wellbeing – Design Challenge Overview
How might we unleash Aotearoa New Zealand's young design talent on Everyday Wellbeing?
Lifehack and Massey University are kicking off a Design Challenge together in July 2015, focused on Everyday Wellbeing.
See the original announcement here, and links to all the posts about the challenge here.
To give you an idea about what the Design Challenge entails – what 150 students will be experiencing over 12 weeks – here's a quick run down.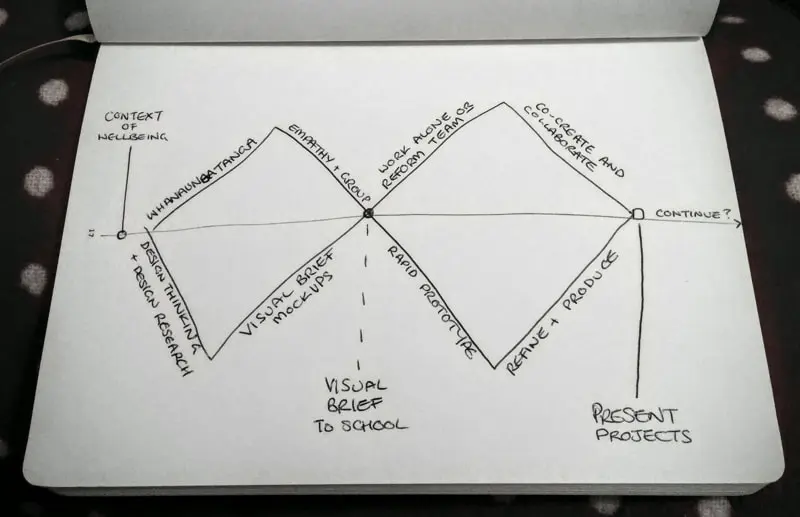 The design challenge is broken up into two sections of 6 weeks, with each week representing 6 hours of lecture and workshop time across 2 days.
The Dimensions
The top half of the double diamond shows the social dimension of the challenge – the students will make new connections, build trust, form groups, and then final teams (or work alone) to collaborate with.
The bottom half of the double diamond shows the design dimension of the challenge – the first half of the challenge will see them skilling up in design thinking, defining a research direction, and creating visual design brief mock ups. The second half will see them lock in a project direction, rapid prototype first versions, and then refine and produce a final project.
The Story
In the first week, a foundation is set – Lifehack introduce a number of models of Wellbeing, and help students understand how to mobilise these models into Everyday Wellbeing interventions.
In the middle of the challenge, a 'visual brief' will be presented to the school, and students will have the opportunity to continue with their brief, join someone else's, or come up with something entirely new.
In the final week, after projects have been presented, there will be provisions made for students who are keen to continue their projects beyond the double paper's requirements.
Expectations
With any human centered design process, you don't know what the outputs will be until the final projects are in. However students will be looking at how to go beyond promotion, and activate proactive approaches to wellbeing. The students are part of the visual communication course, so there is likely to be a strong use of print / digital / typography / infographics or other visual medium.
We're currently working out how we can best showcase some (or all!) of the students' work during and after the challenge, as well as create a package of support for a number of individuals and teams who wish to continue beyond their course, to bring the idea to the wider NZ community.
If you're interested in supporting this to happen, we'd love to hear from you.
How We're Collaborating
Lifehack will be supporting the Massey tutors and students throughout the challenge with content, workshop facilitation, networks, and more.
Keen to find out more? Why not drop us a tweet, or an email?