A Week With Social Labs Revolution Author, Zaid Hassan
If you had the opportunity to spend a week with someone with 15 years of experience in your domain, what would you hope to learn?

Less than a month after we wrapped up Lifehack Labs (our most multi-layered initiative to improve youth wellbeing yet) we were launched back into thinking deeply about Social Innovation and new approaches to tackling complex problem, with the arrival of Zaid Hassan.
We became aware of Zaid's book 'Social Labs Revolution' before it was released, just as we were heading into a big year of work re-focusing Lifehack on blending design, entrepreneurship, social innovation and technology on improving youth wellbeing in Aotearoa. When the book was released, we consumed it in two days – it spoke to many of the core foundations and design principles of Lifehack's work, and built on them with further insights and experience that could only come from 15 years of running these 'spaces' for tackling complex problems.
"Think of it like this – if I throw a pen across the room, it follows a straight path – the outcome is fairly definite as to what will happen. If I throw a live pigeon across the room, everything changes – it's alive and we have no real idea where it will go or what it will do. Complex problems are characterised by this kind of emergent behaviour – trying to write a strategic plan for these kinds of situations is ineffective, they're likely to be wrong. Yet that's the dominant response around the world despite a 90%+ failure rate of these plans. The good news is that there's a better approach – Social Labs are a strategic response for building probability of better outcomes in situations of complexity."
Watch a recording of Zaid's explanation about Social Labs here:
Here's some insights from the public workshop Zaid ran in Wellington: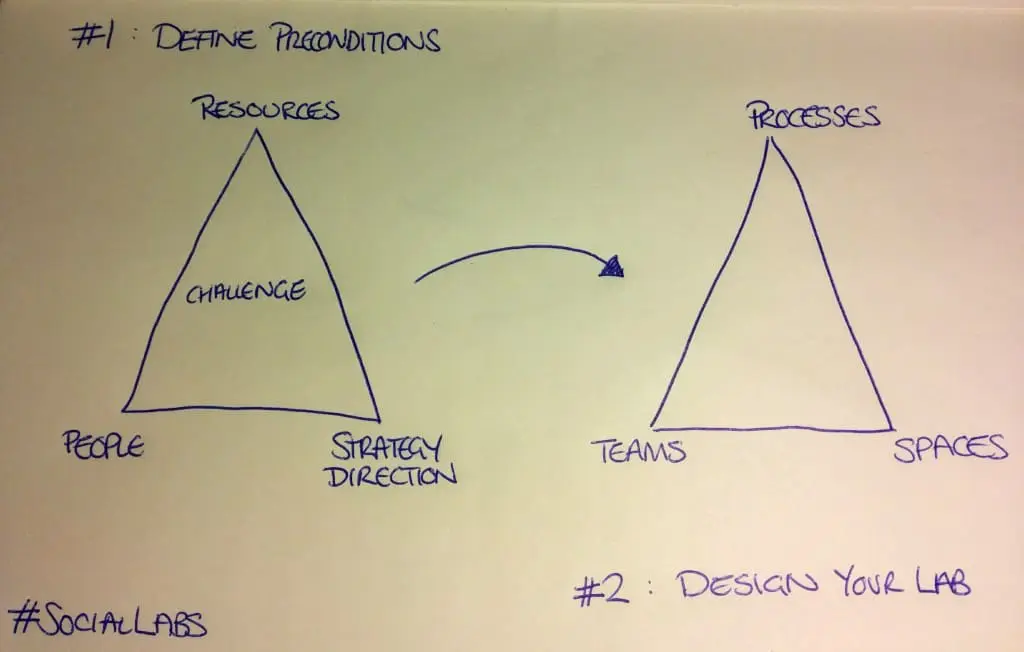 Social Labs are much more than just a physical space, a set of methodologies or tools, or a group getting together to talk about problems. They are a practice.
We also learnt a little more about how Zaid has used impact evaluation over the last 10 years. These ideas formed the basis of our evaluation this year in Lifehack – they were vital to help us recognise and communicate the variety of outputs from our work. In addition to this we recognised the importance of baking in regular feedback loops of this evaluation into the design of Lifehack's tactics throughout the year to keep us in the mindset of continuous improvement.

With this insight, we recognised how social labs practice can be open to and optimised for emergence. There is a strong thread in this work of co-creating outcomes with the people who will benefit from them and the Labs teams with a variety of skills. This thread is important as it focuses on how we collaborate with one another, allowing new – potentially previously unthought of – projects and solutions to emerge from these unique groups of people. If this concept excites you, then you should take a look at the upcoming course "U-Lab – Transforming Business, Society & Self" – it's being run by a collaborator of Zaid's – Otto Scharmer and his team at MIT.
The work of Otto Scharmer and the Presencing Institute has focused in part on a new way of being as we move from an industrial era society into a new chapter. It has had a large effect on our work, where we try to create ego-less spaces, engage in rigorous critique, and invite people to be their whole selves – open, honest & vulnerable.
We were reminded by Zaid that really in this work, there are no experts. There is simply a growing movement of people who recognise that we need to find a way to work deeper yet more nimbly together, if we're going to work on complex problems such as youth mental health and wellbeing in Aotearoa.
If you're keen to get your hands on a copy of Zaid Hassan's book "Social Labs Revolution", then enter our competition!