5 Ways To Become A Developer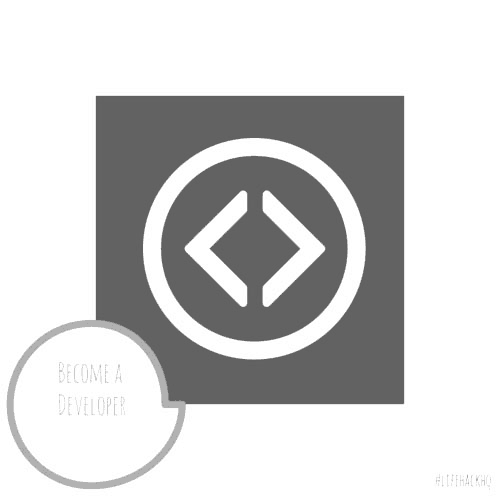 We're constantly asked 'How do I develop an app?' or 'How can I build a website?' by people who have fantastic ideas for Wellbeing technology but don't know any developers.
With the explosion of mobile & desktop tech, the recognition that technology is integrated into our lives is increasing, and people are responding by considering how we can use it as a tool for improving our lives.
Here at LIFEHACK we're committed to catalysing inspiring tech wellness projects, so it's about time we give those of you who would like to get into creating technology a crash course in doing it yourself (just like the founder of Instagram).
Teach Yourself To Code #1 – Treehouse
"Our mission is to bring affordable Technology education to people everywhere, in order to help them achieve their dreams and change the world."
Treehouse creates learning experiences which are known as "Tracks" – such as Web Design, Rails, iOS and Android. Through video tutorials and interactive quizzes and practical coding challenges, you learn your way through badges and awards to Treehouse qualifications.
Treehouse costs a monthly subscription which you can put on hold any time.
Focused on beginners to intermediate audience.
Teach Yourself To Code #2 – CodeAcademy
"Learn to code interactively, for free. People all over the world are learning with Codecademy."
Whether you want to learn about HTML/CSS to build a responsive website, Python or Ruby to build a web app – CodeAcademy is an online space that enables you to do just that.
Focused on intermediate to advanced audience.
Teach Yourself To Code #3 – Enspiral Dev Academy
"DEV ACADEMY is an apprenticeship on steroids. You learned to ride a bike by getting on the bike, right? Same here. We focus on hands-on learning over old-school lectures. From day one, you'll dig in and start coding. It's the only way to learn."
If you're looking to learn Ruby on Rails or .NET and wanting to find a job straight out of the course, this might just be the intensive offline program for you. 9 weeks in Wellington will have you supported and pushed by mentors and teachers, and 'ready for your first developer position'.
Dev Academy comes at a cost of $11k, but there's also scholarships available, and $4k cash back if you get hired by one of the partner companies (some of NZ's leading companies).
Focused on beginner to advanced audience.
full disclosure: we are good friends with the founders of Dev Academy
Teach Yourself To Code #4 – Yoobee Short Courses
"Yoobee School of Design offers a variety of day, evening and weekend short courses and master classes throughout the year. They are practical, relevant and affordable; and designed to develop new skills for personal or professional development."
Yoobee operates in Auckland, Wellington & Christchurch and runs short courses & bootcamps which could give you a grounding in web design, front end development and more.
The courses also cost (dependent on region and course).
Focused on beginner to intermediate
Teach Yourself To Code #5 – Do You Really Need To Code?
Often people who tell us they need a developer or need to learn themselves are putting the cart before the horse. We've repeatedly heard people suggest that they can't move their project forward without someone to develop their app – "I know everything it needs to do, I just need someone to develop it, but all the quotes are too expensive". 
When we hear that, 99 times out of 100 we find that the person hasn't tested the idea or validated it in any way – they're jumping straight to code. We highly recommend better validation before you even touch the code side of things, as once you start building your app or game you'll be investing time, money and energy into something and will be loathed to changes things if your assumptions are proved wrong. A more nimble approach to development of your technology idea is to follow a lean startup approach. Get in touch to find out more.
Focused on beginner to advanced
Of course, there's plenty of other ways to improve your coding chops, including coming along to a LIFEHACK Weekend and learning alongside some of the bright eyed talent of Aotearoa New Zealand!