100 Resilient Cities : #ResilientWGTN
"Urban Resilience is the capacity of individuals, communities, institutions, businesses, and systems within a city to survive, adapt, and grow no matter what kinds of chronic stresses and acute shocks they experience."
– 'What is Urban Resilience' – 100 Resilient Cities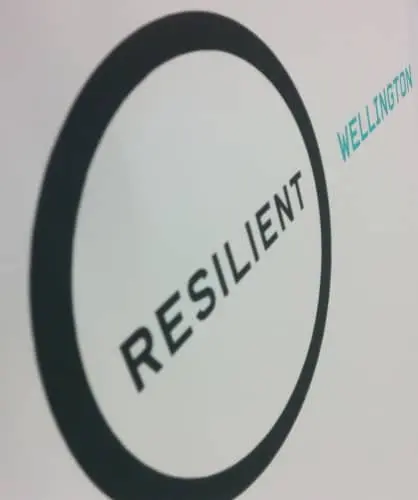 Today we attended the launch event for 'Resilient Wellington' as part of the Rockefeller Foundation's 100 Resilient Cities initiative.
The event brought together about 100 professionals who were working on Urban Resilience research, infrastructure, policy and initiatives. The aim was to get the ball rolling in Wellington on the exciting global initiative which aims to create a network of cities which are committed to Resilience. We were delighted to receive an invite and head along to see what it was all about.
#Wellington resilience framework visualized #resilientwgtn #resilientcities pic.twitter.com/Q1Ui0x2tSJ

— Sebastian Klinkum (@sebklinkum) September 27, 2015
The morning kicked off with breakout sessions to draw out some of the wisdom in the room – "What does a Resilient Wellington mean to you?" was the first theme, which then moved into a card sorting exercise to assess the impact and likeliness of Shocks and Stressors, and finally a traffic lights dot voting exercise to get a picture of what people saw as key areas that Wellington was doing well in, and not doing so well in.
Lunch drew out some provocative discussions with various people about the workshop process, with the lens we have been building about what makes a good social lab, versus a traditional planning process which is ill fitted to complex problems.
After the break, the session moved into a Panel discussion, and then a short exercise to map existing initiatives.
It was heartening to see that part of the Resilience framework proposed by 100 Resilient Cities initiative was 'Health & Wellbeing'. The areas within this were "Meets basic needs", "Supports livelihoods & employment" &"Ensures public health services", which are a good start, but are very Council/Government centric and speak more to Well Living than wellbeing. We were disappointed to see little to no mention of some the protective factors we know contribute to Wellbeing – some of which you can read on The Sovereign Wellbeing Index page here.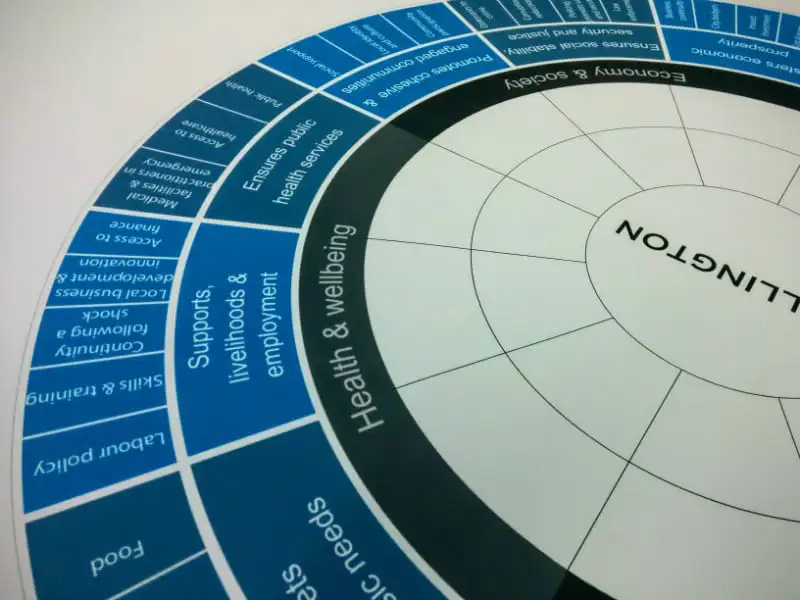 Our second main noticing was how much of the mindset of this process was based on Risk reduction and management, rather than strengths and opportunities. It was a very traditional approach to mapping weaknesses and threats, but short of some dots we applied to areas we thought Wellington was doing well on, there was little discussion about the areas that Wellington was excelling and the strengths we could build on or use in different ways – such as our very high social capital, our green spaces, and our geography. This kind of approach ('Broaden & Build Theory', Fredrickson) might have lent itself to more lateral thinking, idea generation and solutioneering – however this appears to be the part which is internalised at this stage.
We're delighted that there has been a first kick off meeting for some of the people around the country who have already been working in this space for awhile – from Emergency Management specialists to Hydro Engineers, Sustainable Food champions to Climate Mitigation experts. We made sure to ask whether this process would be flowing out into the community to happen in different suburbs and with different community groups – as no strategy like this can be formed and implemented well without the buy in of the people it affects. We were assured it would.
Finally, we hope that an additional layer of critical thinking will be applied to this process, which will introduce some discussion and discourse about Complexity and the kinds of tools and approaches which best suit this kind of problem. We hope that the approaches, policies and solutions which are developed acknowledge the likes of the Cynefin Framework (a matrix for understanding and sense making for complex problems) and Social Labs (a practice of responding to complex problems).
We'll keep a close eye on the process and see if we can further contribute to the project to help build outcomes for Resilient Wellington. We hope to get a chance to chat to the team behind this at the council to share some of our insights from running our social lab focused on wellbeing.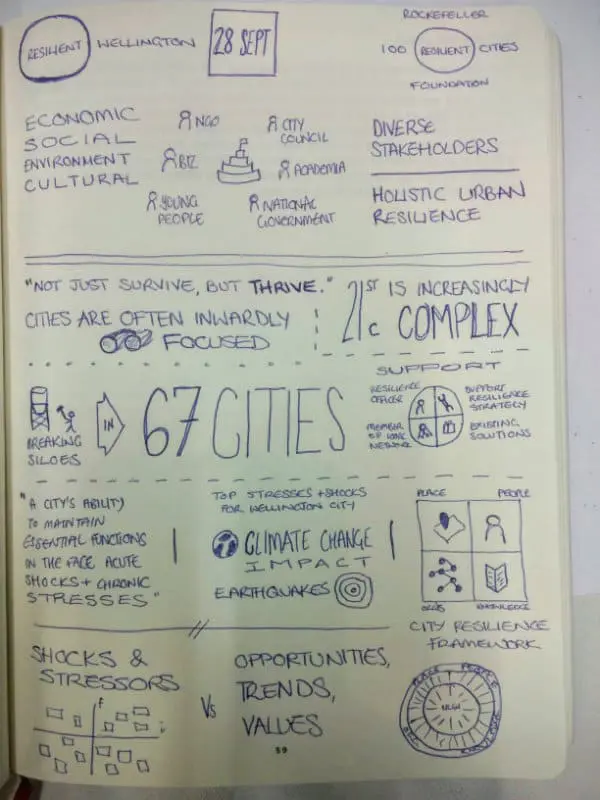 Check out our visual notes from the kick off workshop!
If this is interesting to you and you live in Christchurch – you've also got funding through the 100 Resilient Cities initiative! Check out the Christchurch page, and get in touch with your Chief Resilience Officer, Mike Gillooly!