#LifehackLabs – Week 5 – Sprint to Springboard
Week 5 of Lifehack Labs was all about teams building toward the future.
With the final event fast approaching, the Labs teams were again set loose to choose their own paths in the final week. Whether it was conducting user interviews, developing a prototype, having deeper 'team expectations' discussions, writing finale event stories or launching project landing pages online – the teams were collecting themselves for the final event and life after Labs.
Week 4 was always likely to be one of the hardest weeks – teams had emerged in the previous week, set out down a track to see if they could learn more about their chosen problem, and developed greater insights into how one another work. Week 4 took this to a new level, and as expected, led to some of the participants moving between teams and new threads emerging from the flux. So it was building off this, that after a weekend where many of the crew were working late into the night, week 5 rolled around.
The week was purposefully light on facilitated sessions and workshops to allow the teams to breathe, explore and drive their projects forward, whilst building their team culture and systems to help set a cadence for the future. One session we did provide was presentation & storytelling with Geoff Simmons – a lively interactive workshop taking from the world of drama and improv – it certainly helped give participants the confidence in the run up to the final event.
Our world is so often biased toward extraversion – training our energies on the visible world, thriving in large social situations, and jumping into activities quickly and confidently. We consciously tried to create Lifehack Labs as a space for people who don't normally get involved in events and programs which primarily prize extraversion. Why would we do this? Well we feel introverts have a lot to give to our world, indeed there's growing research in this space – some of it is well outlined in this TED talk by Susan Cain:
So we were delighted when our Labs participants told us they wanted to add a twist to the standard finale event format – after all Labs wasn't about creating shiny technology which was ready for investment, it was about exploring new ways of engaging young people to improve their own wellbeing, test some of these ideas, and set a course and rhythm to take these ideas forward. After all, we don't need more apps in the world, we need more well-thought-out interventions which young people will use and keep using.
About 130 people gathered in Wellington on Thursday night to see what had been bubbling away at Lifehack Labs and what had happened since these people had first met only 5 weeks before. The evening kicked off with an intra-generational musical jam:
The amazing sounds of our violinists (Skye and Charlotte) led into our talented AI introducing himself and his hometown Westport:
Coasta boi breakin it down #lifehacklabs pic.twitter.com/pEq16OcIYi

— LIFEHACK (@lifehackHQ) September 18, 2014
<
p style="text-align: left;">Throughout the evening we tried to follow the principle of people-first. It's why, before we introduced Lifehack and welcomed people to the event properly – we heard from several of the participants and their personal journeys to this point, including the eloquent Zoë Deans, Alex Whitcombe, Jamie Emery and Nate Mitchell.
The wonderful @zoedeans talks Gen Y at #LifehackLabs – "Gen Y comes with their own thoughts, experiences and passion" pic.twitter.com/bKPo9JomvG

— Sam Rye (@samrye_enspiral) September 18, 2014
As the evening went on, we were able to create the space for the project teams to tell the story of their journey in Labs. Next week we'll share more about each team specifically, but for now we can tell you that we have ideas which include:
facilitating youth projects to access the skills, resources and tools through an online platform
helping people who support people with mental health challenges to have better, safer discussions
using positive hip hop culture as a means of expression, and a way to process the things going on in life for young people
supporting high school rugby players to access positive psychology to improve their game and build resilience & life skills
an experiment ground for bringing the 5 steps to wellbeing into people's lives, and sharing the stories online
an approach to build "powerful pauses" into busy young people's lives, one minute at a time.
the role of storytelling for creative expression, identity and culture
We were delighted by the response from friends, peers, mentors, supporters, and our extended networks who joined us for the event – we even let them loose on the teams with a "science fair" feel, complete with post it notes to share their names & contact details with them to open up new networks and connections – one of the vital next steps for these fledgling teams and ventures.
The night was over all too quickly, but for a few final words and a moment to acknowledge the courage of these 20 young Kiwis (& honorary ones) who took a major step forward to lead a new wave of projects and pathways for youth wellbeing.
Woot! Wrapping up @lifehackHQ #lifehacklabs. Kia Ora all! pic.twitter.com/bh98sMlPXS

— Chris Jackson (@NorthwardsDS) September 18, 2014
If you weren't able to be there, but would love to get a sense for how the evening played out – check out this awesome little stop frame of the evening from start to finish…
We'll be back next week with some more information about the projects and the teams behind them, how you can help them succeed, and how you can follow their exploits as they venture forward in the world. In the meantime, check out their visuals about what they got out of the experience.
This is our final weekly check in on Labs from a program perspective, so I'll take this final bit of space to thank all our supporters, and an extra big special thank you to the amazing people I had the privilege of co-leading this social lab with – Chelsea Robinson, Charlotte Hayes & Gina Rembe. Every little up and down was well worth making this happen – here's all of us from the final event!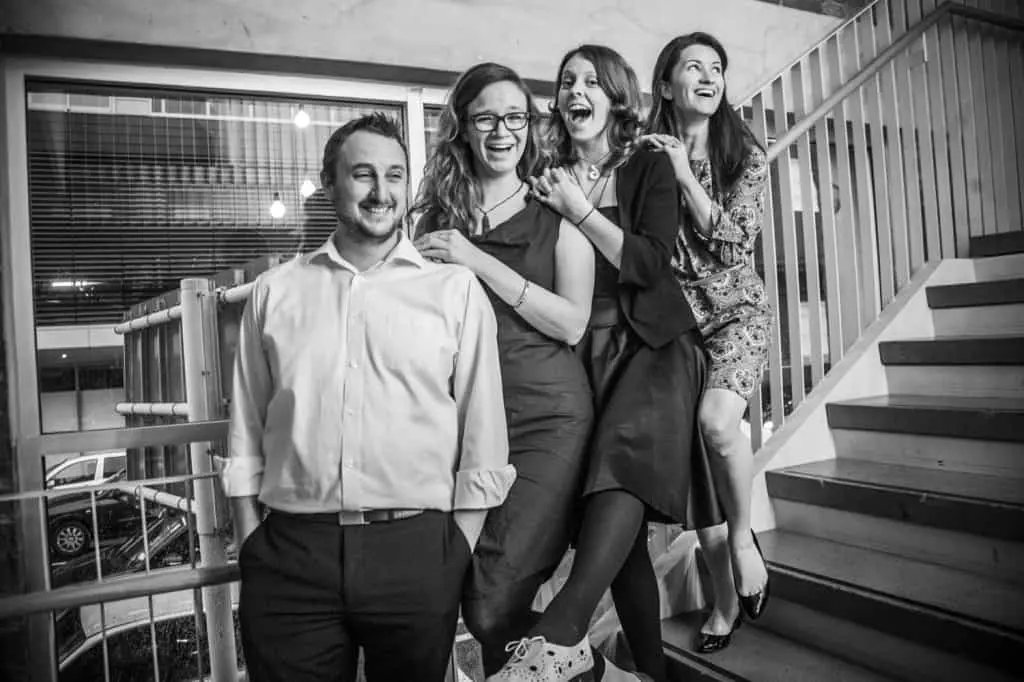 The Lifehack Labs 2014 – Core Crew Family Portrait
Bonus content:
If you're feeling particularly keen to delve depeer into this world of social entrepreneurship and change making, why not check out this talk from Andy Middleton at the Do Lectures, or delve into the UnLtd Toolkit for Social Entrepreneurs.