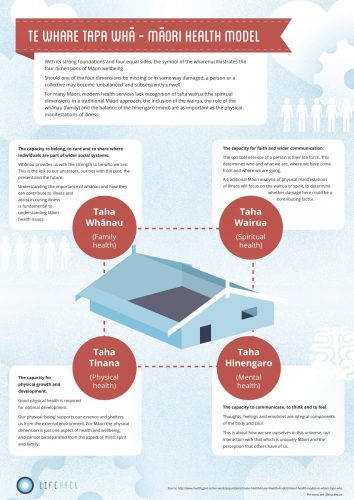 Te Whare Tapa Whā, developed by Sir Mason Durie, is a New Zealand indigenous model for wellbeing.
The Whare Tapa Whā was developed as a response to a piece of research by the Māori Women's Welfare League in the late 70s. Rapuora, the piece of research which had uncovered health issues and barriers amongst Māori, including a lack of spiritual recognition and issues of structural racism. Te Whare Tapa Whā was, and still is, used as a framework that can help support engagement with Māori when it comes to acknowledging the wider contributing factors when it comes to wellbeing.
The four dimensions are
Taha Tinana – the capacity for physical growth and development
Taha Hinengaro – the capacity to communicate, to think and to feel
Taha Wairua – the capacity for faith and wider communication
Taha Whānau – The capacity to belong, to care and to share where individuals are part of wider social systems.