Co-design for Youth Wellbeing Symposium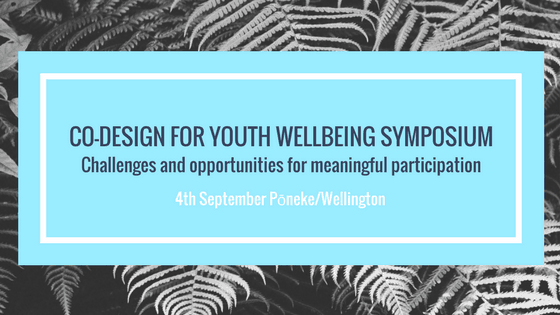 The Co-design for Youth Wellbeing Symposium is a one-day event for sharing knowledge and opportunities for co-designing alongside young people. This event aims to build engagement around why young people should be agents in the systems that affect them and share the growing local and international knowledge-base about how this can best be done.
You'll be joining a cross-sector group of 120 amazing people from around Aotearoa who are working to make New Zealand a place where all our young people flourish.
Join Lifehack and Ara Taiohi (the peak body for youth development) on Monday 4 September at Massey University. We look forward to seeing you there!
Check out the Draft Programme below and our Contributor Bio's to see who will be there on the day.


Who is it for?
It's for anyone who is passionate about youth wellbeing in Aotearoa New Zealand. The symposium will bring together a diverse range of people from different sectors and backgrounds. If your work or passion involves youth wellbeing, then this is the event for you.
You might be somebody whose work influences youth wellbeing through policy advice and development, funding, research, governance or academia. Maybe you interact with young people on a day-to-day basis. You might be a youth worker, service provider, clinician, librarian, educator, counsellor, police, peer worker. Perhaps you're passionate about youth wellbeing and keen to learn more from others working in that space. Designer and social entrepreneurs - that might be you. Or, you are a young person and you're keen to learn more about co-design and share your perspective.
Whatever your 'title' or 'role', you're invited to the Symposium to learn from a diverse range of people in the youth wellbeing system.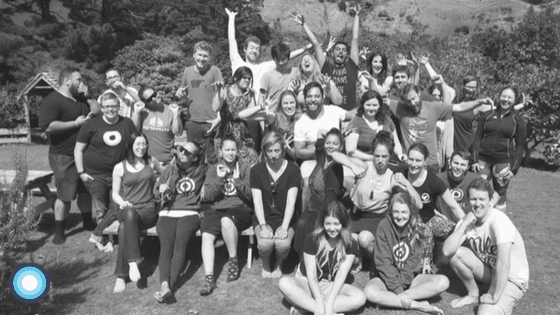 What to expect
Co-design is increasingly referenced as a key aspect to positive youth development, increased youth participation and improved service quality and reach for young people.
The Symposium is designed to take stock of the wider environment that impacts on young people's ability to participate in the decisions that affect them. Our contributors will showcase leading examples of co-design in different settings and examine some of the key structures and supports for growing co-design capability for youth wellbeing and development.
These are the three key questions that we'll explore together at the Symposium.
1. Why is codesign important for youth wellbeing in Aotearoa?
You'll have the chance to explore the evidence-base for co-designing with rangitahi/young people. What role does co-design play in youth participation, positive youth development and youth wellbeing?
2. How do we do it? What does successful co-design look like?
The Symposium will include interactive sessions for you to hear other people's stories about the "how to" of co-design. What methods, tools and new knowledge are people developing and applying?
Real life examples will highlight the challenges and opportunities of following through on the commitment of co-design in Aotearoa. If you're keen to do more co-design, but you're not sure how, or can bring to the kōrero your own experiences of what works, these sessions will be gold for you.
3. How can we grow the conditions for youth wellbeing and youth participation more broadly?
Enabling youth participation and co-design relies on the right structures, capability and investment - at a national, community, organisational and individual level. How well do our current systems and structures support youth participation?
At the Symposium, you'll have the chance to share your questions about the broader structures and enablers of youth participation across Aotearoa New Zealand. If you have experience shaping these structures, you'll have the chance to share your wisdom.
The intent is to develop our collective knowledge base and explore potential directions for the future for policy and practice.
8.30-9.30

Registration

9.30-10.00

Opening & Welcome



Connecting to place and purpose, whakawhanaungatanga

10.00-10.30

Imperatives, opportunities and challenges for codesign for youth wellbeing



Some short provocations to frame the day

10.35-11.00

Morning Tea

11.00-12.00

Actions stories: Co-design for youth wellbeing in Aotearoa



Six teams from around Aotearoa share their co-design initiatives and kaupapa, what they've achieved, what they've learnt and where they are heading next. 





Sessions are 25 minutes long, people can attend 2 sessions.

12.-12.10

 Action stories Debrief

12.10-12.30

Outcomes and aspirations from Oro



What can we learn from Lifehack's place-based programme Oro: Two perspectives shared  

12.30-1.30

Lunch

1.30-2.30pm

Bus Stops: Practical methods, tools and skills to support co-design and participation



Eight bus stops (mini workshops)  





15 minutes each - participants can choose to attend three

2.30-3.00

Growing the conditions for youthwellbing and participation:



Short talks and reflections on the capabilities, structures and enablers we need to support participation & co-design  

3.00-3.30

Afternoon tea

3.30-4.45

Clinics: What is needed to increase our capability and capacity for co-design for youth wellbeing in different settings?



Groups work collectively on a challenge, and share back key findings with the group

4.45-5.30

Our shared findings:





Key message report backs,  feedback from SSPA conference/keynote listeners, final reflections.

5.30

Close & finish

6.00

Social event
Contributors
We've invited a diverse array of people and teams to contribute to the Symposium as speakers, facilitators or key note listeners. We will keep adding to this list as people are confirmed.
Date and venue
The Symposium will run from 9.30am to 5.30pm on Monday 4 September 2017.
It's at Massey University's College of the Creative Arts in Pōneke/Wellington. We are hugely grateful to Massey University for supporting the Symposium with their venue.

Costs, scholarships and travel koha
Get your ticket now for just $40 (including GST)!
The ticket price includes:
Entry to all the sessions at the Symposium

Morning tea, lunch, afternoon tea - local food prepared with care by the team from Home Cooking Plus.
It does not include any travel or accommodation costs.
If you've previously registered your interest for the Symposium, you'll now need to purchase a ticket to secure your spot.
Scholarships are available
Although Lifehack and Ara Taiohi are covering most of the costs of the Symposium, we recognise that the ticket price may present a barrier to some people attending.
We have a limited number of scholarship tickets available, which will provide you a complimentary place at the Symposium. To enquire about receiving a scholarship please get in touch with Charlotte at Lifehack.
Koha for travel and accommodation
We have a small fund to support people from outside Wellington to attend the Symposium. If you will find it challenging to attend without some financial assistance for your travel or accommodation costs, please let Charlotte know you're interested.
Wrapping a bow on Lifehack's four years
This is Lifehack's last event before we wrap up in October. If you've been waiting for your opportunity to get involved, now's the time!