Meet The Author of 'Social Labs Revolution'!
Do you want to meet the Author of a book which helped inspire Lifehack Labs?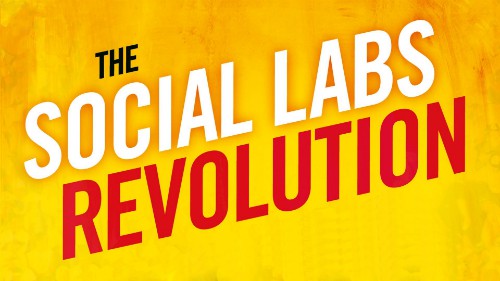 Check out the events in October

Tweet about this event:

Back in February, we were deep in research mode – trying to make sense of our new direction with Lifehack, and explain to people how this new approach worked.
We were packing together 5 years of working on social innovation across youth climate movement building to kickstarting a hi-tech venture tackling the global food system. We had many ideas, approaches and toolkits in our collective kete, and wanted to train a variety of them on the complex social problem that is youth wellbeing. We were being encouraged by everyone we met to lead with this vision we had, and make it practical and accessible for young people to engage with.
It was round about this time that a website popped up, Social Labs Revolution. It spoke about an upcoming book by Zaid Hassan – whilst we weren't familiar with his work, we knew of the group he worked with – Reos Partners. It brought us to researching deeper into social labs which were popping up around the world under a variety of names – social innovation labs, civic labs, and more. We joined facebook groups, linkedin groups, read articles and found that much of what we had envisaged for our first "Lifehack Labs" bootcamp was being done in other forms overseas. We even got hold of Zaid himself on skype and had a chat – that's when we found out he was planning a tour around the world and was heading to New Zealand in October!
When Zaid's book was finally released, we ate it up. It brought language and context to our work – international validation that we were onto something. Whilst there were only a handful of Labs around the world, there was a growing community of practice, and in the weeks and months after, we saw more and more Labs launching. From reading the book, we found that we were aiming to run a process which fitted Zaid's version of a "Second Generation Lab". That's when we launched Lifehack Labs.
Over the last 5 weeks of Labs we've been sharing the journey from both behind the scenes and from the participant's point of view. We also just wrote up more about how we have used some of the foundations laid out Social Labs Revolution to help us assess and evaluate our impact.
Ever since we've been beavering away in the background alongside our friends at Ākina Foundation to ensure we throw on a great set of events when Zaid Hassan is in town. Whilst we don't have him for very long, we've managed to cram in some events in Wellington and Auckland which are coming up in mid October.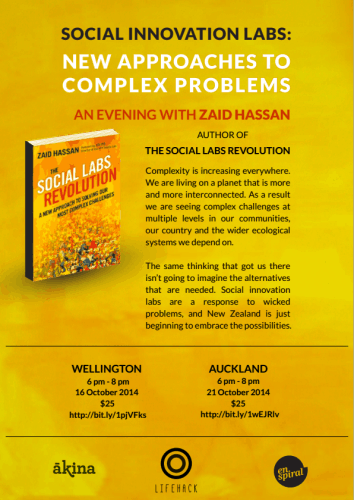 So, do you feel like joining us?!
The Wellington Events include a Networking evening on 16 October and Public Workshops on 17th & 18th.
The Auckland Event is a Networking evening at Grid AKL on 21 October.
You can get your tickets on the above links – so book now and join us for a magical few days of exploring what Social Labs look like in Aotearoa New Zealand, including a sneak peek into the Lifehack Labs experience which we recently wrapped up in Wellington!
Tweet about this event:

Still keen to learn more about Zaid before committing? Why not watch this talk he gave for social innovation thought leaders, MARS:
Social Labs Revolution: Why putting a man on the moon won't cure his diabetes – MaRS Global Leadership from MaRS Discovery District on Vimeo.