Social Enterprise meets Design Thinking & Lean Startup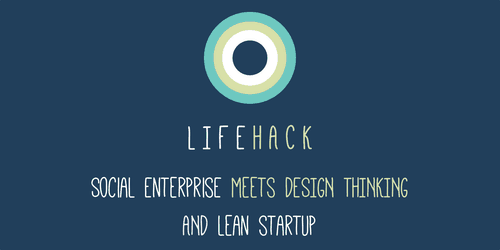 Today we wanted to introduce you to three key parts of the LIFEHACK toolkit which we'll be talking about more as the months continue.
Social Enterprise
Social Enterprise is about tackling social and environmental challenges using a business model which will create a sustainable path to change or elimination of the problem entirely.
Design Thinking
Design thinking is a human-centered approach to innovation that draws from the designer's toolkit to integrate the needs of people, the possibilities of technology, and the requirements for business success.
Lean Startup
The Lean Startup provides a scientific approach to creating and managing startups and get a desired product to customers' hands faster. The Lean Startup method teaches you how to drive a startup, how to steer, when to turn, and when to persevere and grow a business. It is a principled approach to new product development.
These three toolkits are fundamental to the way LIFEHACK approaches problems, and how we work with young Kiwis to build teams, design, develop & launch social ventures for youth wellbeing.
We focus on supporting social entrepreneurs and social enterprise models as they are grounded in problem solving and creating sustainable income streams. We see this as an important part of the LIFEHACK approach, so that individuals and teams involved in LIFEHACK are able to forge themselves an income to work on their positive impact projects.
We use the complementary toolkits of Design Thinking and Lean Startup to identify and understand problems, and then create prototype versions of the solution to minimise the chasm between 'good idea' and 'working technology', before finally creating technology with social enterprise models to support its ongoing positive impact.
To get some background in Design Thinking, check out this excellent TED talk from the founder of IDEO – the design firm that popularised the term…
If that has given you some energy to explore further, check out this great Crash Course in Design Thinking from the Stanford d-School.
Here's a very quick run down (sorry for the style, we'll work on our own!) on Lean Startup:
If you're keen to learn more about Lean Startup itself, there's some good online courses around, we suggest checking out the Lean Startup website.
We'll bring you some more perspectives from people and organisations who are using these toolkits in New Zealand and overseas soon.
In the meantime we'd love to hear your thoughts and questions about this approach in the comments, or get in touch online or on Facebook or Twitter.